Ahoj, jmenuji se Andrej Gajdoš
Jsem programátor webových aplikací a webových stránek na míru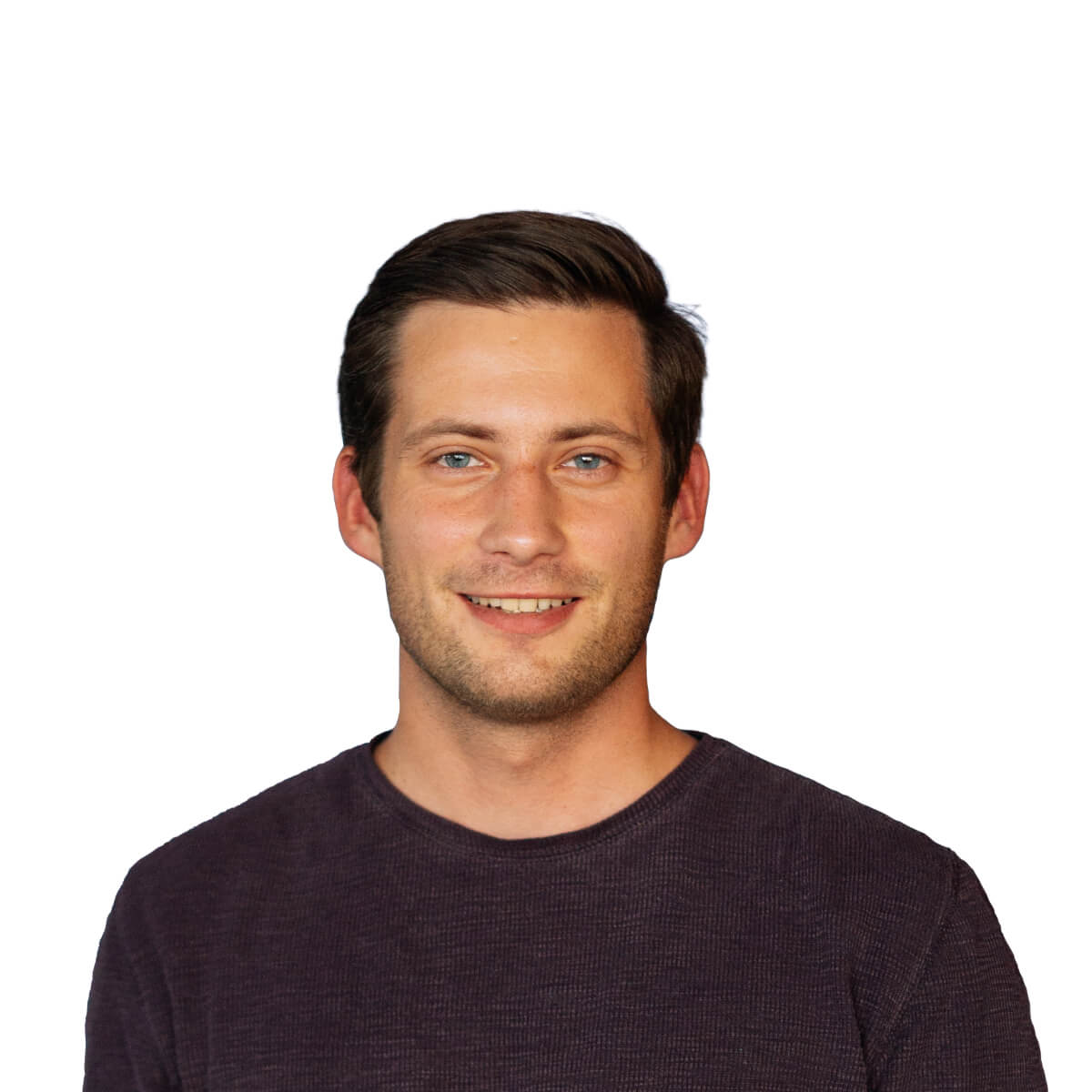 O MNĚ
Jsem Programátor webových aplikací a webových stránek na míru. Dodávám kompletní webová řešenía a navrhuji webové rozhraní pro firmy i jednotlivce.
Pracuji na volné noze pro různá odvětví z celého světa. Vytvořil jsem řešení pro startupy, digitální agentury a velké společnosti jako například Apple. Tvořím webové aplikace na míru, která jsou rychlé a připravené škálovat z pár do tisíce uživatelů. Tvorbou efektivního uživatelského rozhraní umím zaručit vašim uživatelům bezproblémový a poutavý zážitek. Díky studiu informatiky a zkušenostem na pozici full-stack programátor (front-end a back-end) umím vytvořit všechno od prezentačních webových stránek po komplexní webové aplikace na míru.
Programováním webových aplikací a webových stránek se zabývám víc než 6 let a rád ulehčuji život ostatním pomocí technologií. Poskytuji služby jako programátor webových aplikací a webových stránek na míru pro jednotlivce a společnosti. V pracovních dnech mě můžete kontaktovat s cílem prodiskutovat a poradit v rámci vašeho projektu nebo požadavků.
Co znamená full stack programátor?
Full stack programátor má znalosti a schopnosti proměnit koncept do hotového digitálního produktu. Full stack programátor by měl mít znalosti ve front-end a back-end vývoji. Front-end programátoři tvoří viditelné části aplikace, které uživatelé vidí a s kterými interagují. Back-end programátoři jsou zodpovědní za tvorbu ostatních častí aplikace, které nejsou pro uživatele viditelné a zahrnují výpočtovou logiku, server a databázi.
externí API (Facebook, Twitter, YouTube, Github, atd)
Full-Stack Programátor
Září 2016 – Současnost
Přidal jsem se k top 3 % freelance programátorům, abych mohl pracovat na zajímavých projektech a dosáhnout správnou rovnováhu mezi pracovním a soukromým životem. Můj toptal profil je dostupný
tady
.
Programátorské nástroje:
Javascript
React
Node.js
PostgreSQL
React Programátor
Červenec 2018 – Květen 2019
Tvorba firemního responzivního webu.
Tvorba UI komponent použitých napříč více projekty.
Tvorba funkčního prototypu pro správu fondů a platebního systému v burzovním systému na obchodování s kryptoměnami.
Programátorské nástroje:
Javascript
React
Gatsby
GraphQL
Styled-Components
Typescript

React Programátor
Květen 2018 – Červenec 2018
Návrh a tvorba funkčního prototypu pro platformu pro správu plaveckých týmů a plaveckých soutěží.
Návrh nového uživatelského rozhraní na základě prototypů zákazníka.
Tvorba funkčního prototypu od základů jako single page aplikace.
Programátorské nástroje:
Javascript
React
Redux-Saga
React Programátor
Březen 2018 – Květen 2018
Pomoc při dokončení React Native projektu sloužícího pro správu fitness center.
Oprava různých chyb a problémů v projektu.
Optimalizace projektů pro Android platformu.
Programátorské nástroje:
Javascript
React Native
Redux
Full-Stack Programátor
Srpen 2017 – Květen 2018
Návrh a tvorba interaktivní podcast platformy.
Tvorba single page aplikace od základu s komplexním uživatelským rozhraním, uživatelskými interakcemi a animacemi pomocí React.js, Redux, D3.js, Webpack, SVG a HTML5 Audio.
Návrh a tvorba REST API serveru pomocí Heroku, Amazon S3, Node.js, Koa, PostgreSQL a integrace s Twitter API.
Tvůrci podcastů můžou nahrávat audio nahrávky a přidat "okamžiky" ve specifických momentech audio nahrávky. Okamžiky můžou být URL odkazy, příspěvky ze sociálních médií, videa nebo obrázky.
Programátorské nástroje:
Javascript
Node.js
Koa
Objection.js
Knex.js
React
Redux
D3.js
Heroku
Amazon S3
PostgreSQL
SVG
Webpack
Babel
Twitter API
Obchodní inženýr
Červen 2016 – Červen 2017
Prezentování a demonstrování produktů potenciálním zákazníkům z celého světa.
Demonstrování produktů pro týmy programátorů a demonstrace, jak je použít v procesu tvorby softwaru ve specifickém pracovním procesu, prostředí a nástrojů.
Pomoc obchodníkům při uzavírání obchodů formou prezentace produktů v specifických případech použití.
Školení obchodníků, jak efektivně prezentovat a prodávat produkty, pro týmy programátorů a manažery programátorů.
Asistence uživatelů při instalaci a problémech při konfiguraci nástrojů.
Programátorské nástroje:
Java
Softwarový inženýr
Duben 2015 – Červen 2016
Implementace nových funkcí a oprava chyb v podnikových aplikací použitých pro řízení kvality dat a přepsání UI komponent do moderních technologií.
Návrh a implementace uživatelského rozhraní interaktivní webové aplikace pro správu zákazníků.
Návrh a implementace server-to-server komunikace a server push v GWT aplikaci.
Programátorské nástroje:
Javascript
Java
ES6
React
Flux
Immutable.js
Backbone.js
jQuery
Bootstrap
SCSS
Webpack
Gulp
Babel
D3.js
JSP
JSTL
JMS
ActiveMQ
Errai
LinkedIn Profil
link-preview-generator

auth-flow-spa-node-react

neo-transfer

newsfeed-cryptogoods

webpack-react

nested-datatables

svg-sprite-to-png
Získání dat (a title, description, image, domain name) z url adresy. Knihovna používá Puppeteer headless browser na získaní dat z webové stránky.
Development tools:
Javascript
Node.js
Puppeteer
Autentifikace uživatele v single page aplikaci (SPA) vytvořená pomocí Node.js a React.js. Uživatelé se mohou přihlásit pomocí uživatelského jména, hesla nebo přes Facebook.
Programátorské nástroje:
Javascript
Node.js
React
Redux
Redux-Saga
Passport.js
Koa.js
Oath
Neo transfer umožňuje přihlášení uživatele do krypto peněženky pomocí privátního klíče. Uživatel může vidět zůstatek NEO a GAS tokenů, které může zároveň posílat v rámci TestNet. Projekt je založený na JS SDK pro NEO blockchain.
Programátorské nástroje:
Javascript
React
Redux
Redux-Saga
Neon
Blockchain
Notifikace pro události, které nastanou při obchodování s krypto zbožím. Jednostránková responzivní aplikace, v níž události nastanou v intervalu 15 sekund.
Programátorské nástroje:
Javascript
React
Redux
Redux-Saga
Blockchain
Nonfungible
Cryptocollectibles
Polling
Jednoduchý projekt demonstrující bundlování ES6, React, SASS a Bootstrap ve Webpack.
Programátorské nástroje:
Javascript
React
Webpack
Bundling
Bootstrap
jQuery DataTables plugin na renderování vnořených tabulek v řádcích. Vnořené tabulky jsou nezávislé na datech rodičovských tabulek.
Programátorské nástroje:
Javascript
Jquery
Datatables
Nested-structures
Gulp workflow na konvertování SVG sprite do PNG obrázků.
Programátorské nástroje:
Javascript
Gulp
Github Profil
UKÁZKY PRACÍ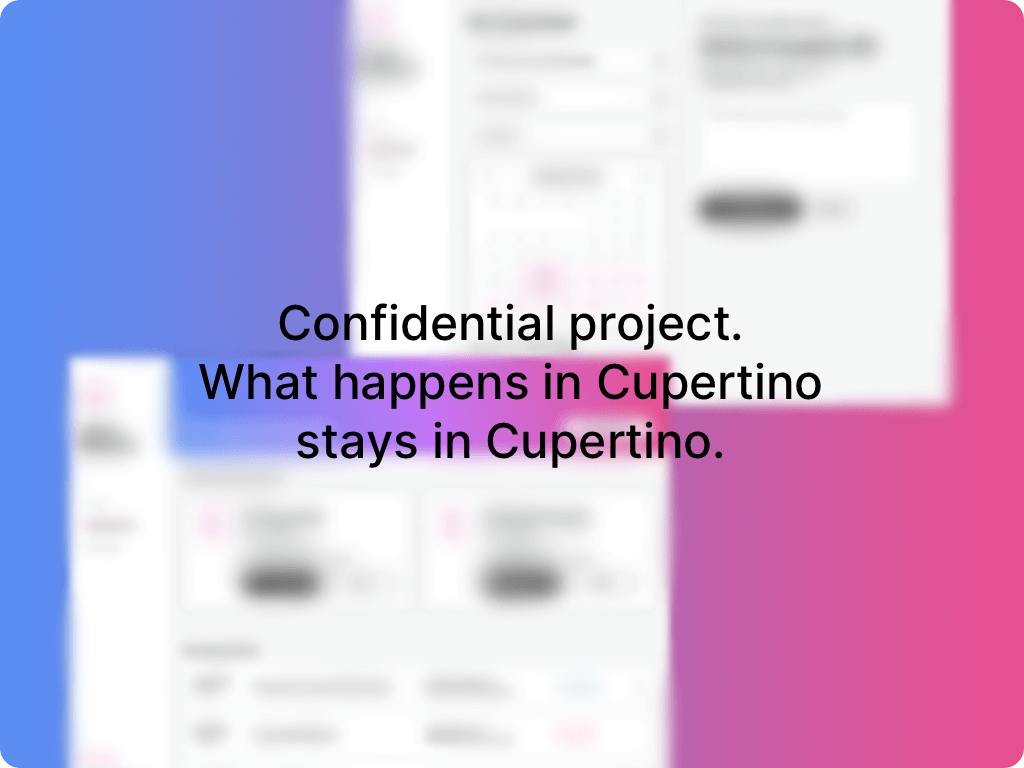 Apple ***
Webový portál v React.js, který umožňuje Apple ***
PROGRAMÁTORSKÉ NÁSTROJE
React
Styled-Components
Framer Motion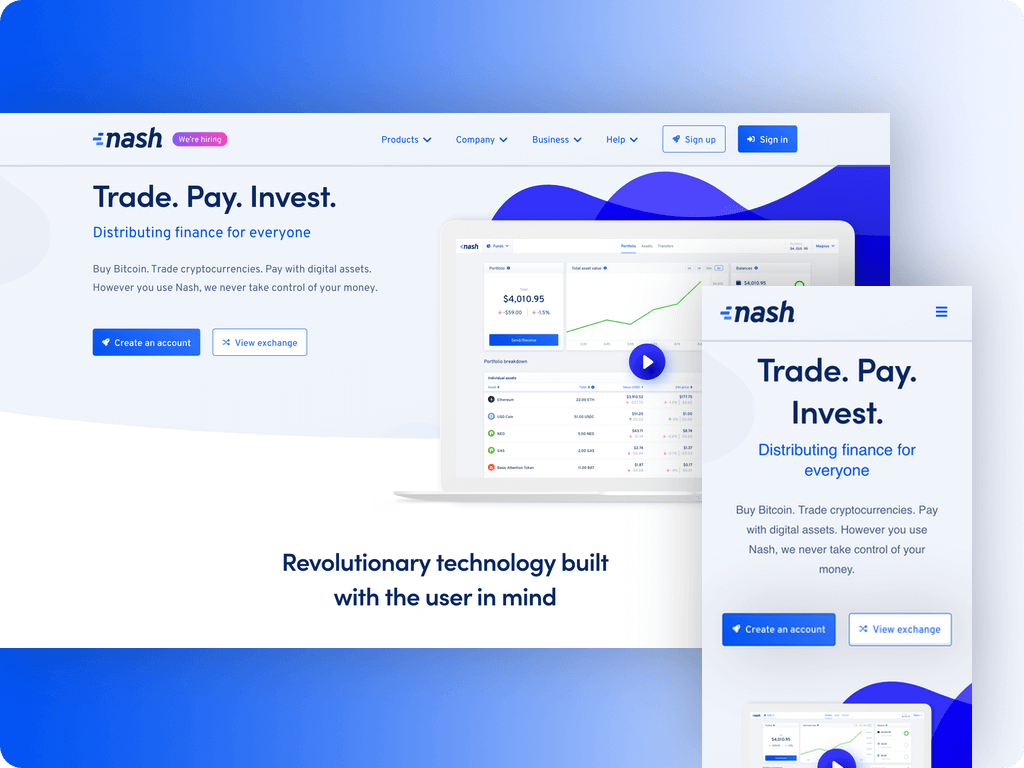 Nash
Bleskurychlá webová stránka na míru vytvořená pomocí React a Gatsby. Všechny stránky jsou responzivní a optimalizované pro mobilní zařízení.
PROGRAMÁTORSKÉ NÁSTROJE
React
Gatsby
Styled-Components
Typescript
ZOBRAZIT PROJEKT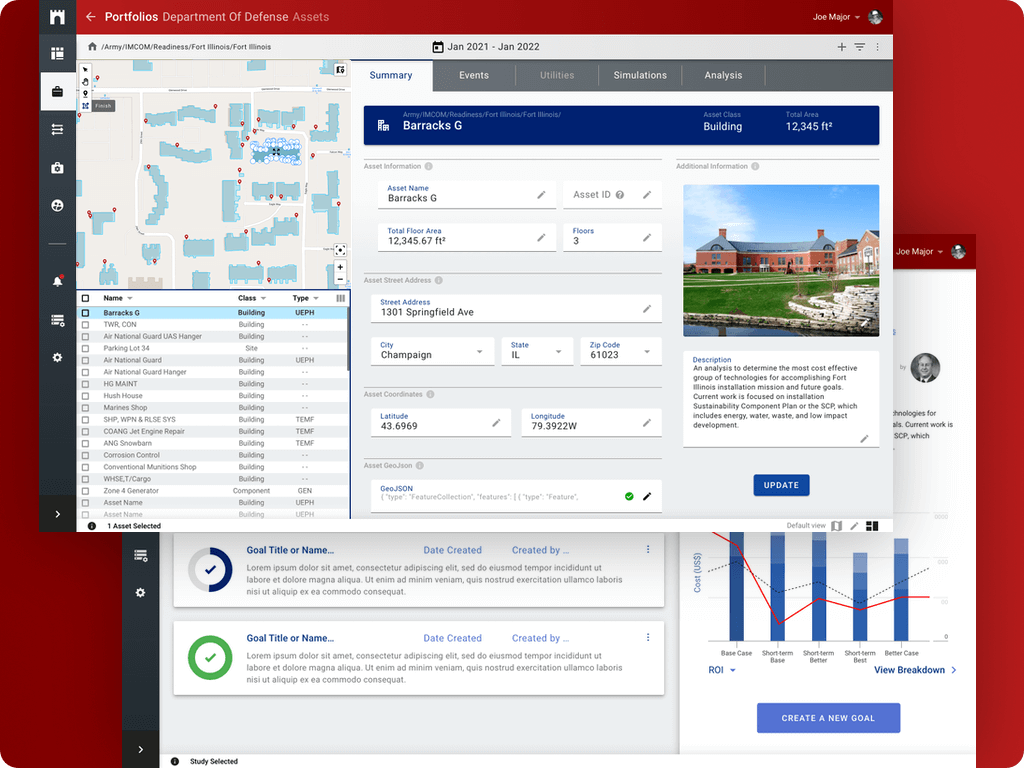 System Master PLanner
Výpočetní nástroj při návrhu budov. Nástroj umožňuje vyhodnotit scénáře udržitelnosti a odolnosti budov a další aktiva.
PROGRAMÁTORSKÉ NÁSTROJE
Ship***
Marketingová webová stránka v Next.js. Všechny stránky jsou responzivní a optimalizované pro vyhledávače (SEO). Navrh jsem CMS v Contentful a GraphQL pro načítavání dat.
PROGRAMÁTORSKÉ NÁSTROJE
Next.js
Contentful
GraphQL
Mapbox
Cryptocurrency Exchange Platform
Platforma na obchodování s kryptoměnami v React. Implementoval jsem uživatelské rozhrání pro správu portfólia a platební systém.
PROGRAMÁTORSKÉ NÁSTROJE
ZOBRAZIT PROJEKT
ZJISTIT VÍCE
KLIENTI O MNĚ ŘÍKAJÍ
Andrej worked with our team to develop a rather complex web application using React. He joined us at a critical stage in the development process and was instrumental in guiding our team to adopt best practices for React and helping us implement more modular code.
We found Andrej to be very professional, a skilled and efficient programmer, and enjoyable to work with. He easily integrated with the rest of our team and was productive from day one. We would happily hire Andrej to work with us again.
Andrej worked with Adapt Worldwide in 2019, developing multiple React widgets for a major marketing campaign. Andrej exceeded our expectations beyond measure through his skill and dedication.
Communication with Andrej was fluid and uncomplicated, and he always went above and beyond to not only ensure the project was promptly delivered, but that it was done so to an immaculate standard. His insight and experience was hugely valuable to the project; Andrej truly helped us shape our vision and reach our goals with strong execution.
I would highly recommend Andrej as an exceptional React developer who is completely dedicated to producing quality, functional, engaging content. It would be an absolute pleasure to work with Andrej again in the future.
Andrej was a key contributor to a complex, critical React web application. His work is timely and thoughtful, and he's a great communicator and team player. We hope to work with him again soon.
After working with over a dozen developers from several different countries, it was absolutely refreshing to have had the pleasure to work with Andrej in building a full stack, dynamic web app.
Andrej has all of the required technical expertise that one could hope for when it comes to building a highly scalable and dynamic website. For me, this meant taking designs from an early stage and building the entire front and back end of the project, release ready.
He also exhibits a particular pride in his attention to detail (a trait which had been hard to find previously). This meant that after giving Andrej direction, you can always be confident that the code will be delivered exactly as required. Equally in my experiences, If Andrej see's a better method, he will always suggest it, helping us end up with the best product possible.
All in all, Andrej was indispensable to our team and certainly one of the best developers that I have had the pleasure to work with.
I had the pleasure of managing Andrej for about 1 year at Zeroturnaround. His natural ability to recognize deficiencies and address them made him an immediate asset to the team and the company.
Andrej would regularly think of different ways to provide our clients with the best grasp of the benefits that our tools offered. This allowed him to grow in respect from our clients and his co-workers. Andrej was a pleasure to work with and is always looking for ways to provide himself with personal growth.
Andrej also is an excellent orator. His clear and concise voice allowed customers to feel comfortable working with him and collaborating with him. This lead to his sales team being able to close many deals that they were previously unable to close.
I would love to be able to work with Andrej again someday and comes with my highest of recommendations.
Andrej was a great help in creating a vision and front-end prototype for our startup. I have very little technical knowledge, and he was so knowledgeable in finding us technologies that would work for our needs. He is very professional, friendly, honest, and his communication is excellent. I highly recommend Andrej!
POTŘEBUJETE PROGRAMÁTORA WEBOVÝCH APLIKACÍ?
Neváhajte mě kontaktovat pomocí formuláře.